Sports Premium
Hove Junior School: Portland Road & Holland Road
School Sport Premium
We receive additional funding to enhance sport provision via the School Sport Premium. Please see the School Sports Premium Report 18-19 attachment to see what the funding was used to facilitate across the school.
We are also working with the Hove and Portslade schools to develop ways of maximising the impact of the funding e.g. combining resources etc.
Purpose of the funding
Schools are given the funding specifically for the improvement of their provision of PE and sport. They have the freedom to choose how they use the funding but it must be involved in the improvement and development within this subject area and needs to show sustainability.
Physical Education at Hove Junior School
At Hove Junior School, we actively encourage physical activity within PE lessons and throughout the School day, including planning lunchtime sports provision, activities and afterschool clubs. We believe in making physical activity a positive, enriching experience, which everybody can access. We celebrate sporting contributions and achievements, both inside and outside school. We feel that it is important to provide a safe environment to try new sports, as well as improve skills within familiar activities. We celebrate sporting activities in current events, such as the Olympics, Paralympics, Rugby World Club and Football World Cup (to name just a few) and encourage participation in events supporting these. Our lessons are active, motivating and challenging. We recognise the importance of innovative lessons and the positive impact that they can have on learning behaviours and experiences and therefore encourage physical activity and sporting opportunities wherever possible.
School Sport
At Hove Junior School we ensure sporting opportunities are available to all of the children in our care.
We work closely with Brighton and Hove's School Games Coordinator, the local council and local sporting clubs, to maximise the provision available to all the children. We are active participants of School Partnership groups, which aim to improve provision throughout the city.
Community activities/events
We take part in a variety of community events/activities each year including:
Visit from an athlete (Olympian, or potential Olympian)
Cross Country
Let's Dance
Sport Relief
School Sports Day
Inter School Netball/Football leagues
Cricket and Tennis competitions
Brighton and Hove Athletics competitions
Paralympic events
Most recently, we have had coaches visit us from Hove Rugby Club and Sussex Cricket Club.
During World Cup and European events we use opportunities to arrange some intraschool competitions and activities for the children, e.g. Rugby World Cup, Olympics Topic Summer 2016 and 2020. We aim to improve health and well-being, promote participation and give children a range of opportunities through the curriculum and extra-curricular activities.
Sporting clubs
We work in close partnership with PE Development Ltd who offer the following after school activities during the school year including:
Street Dance
Basketball
Tag Rugby
Netball
Football
Tennis
Gymnastics
Hockey
Running Club
Athletics
We fund any vulnerable pupils to participate in after school activities should they wish to.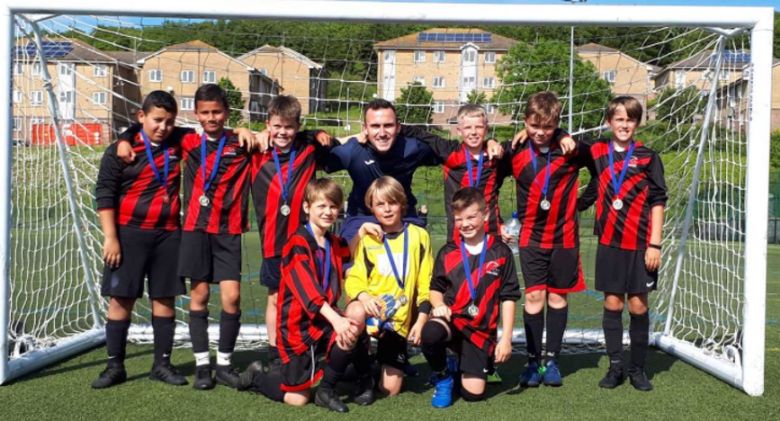 PE Curriculum Development
All teachers have received Professional PE Curriculum Development within their PE lessons in the subjects listed below;
Year 3: Tennis, Tag-Rugby, Basketball, Athletics
Year 4: Dance, Cricket, Netball
Year 5: Gymnastics, Tag-Rugby, Rounders, Fitness Training (Circuit), Athletics
Year 6: Netball, Cricket, OAA
A brief synopsis of the Professional PE Curriculum Development that has taken place in PE lessons by PE Development Ltd.
Curriculum Development PE lessons always begin with a recap from the previous lesson's learning. It continues with a clear explanation of the purpose and benefit of a warm-up, then the warm-up is delivered, usually consisting of pulse-raising activities such as different forms of running with different movements, also included are basic stretches. The Curriculum Development then aims to provide teaching staff with teacher led tasks that improve basic skills for the different Sports, Gymnastics, Dance and Outdoor Adventurous Activities. PE Development Ltd staff also give clear demonstrations to enable the development of the children's technique for the different Sports, Gymnastics, Dance and Outdoor Adventurous Activities. Most PE Curriculum Development lessons will culminate with a competitive game, either challenging individuals against one another or in a team scenario. Also included in the PE Professional Development is how to differentiate tasks and equipment to maximise the learning and successful outcomes from all children, and finally, PE Development will suggest progression activities for the less able and more gifted. The PE lesson culminates with a recap of the learning that was present in the lesson, aligning learning outcomes on the portable whiteboard with children's knowledge and answers.
All teaching staff who receive the PE Curriculum Development from PE Development Ltd should be more confident to deliver more challenging PE lessons and satisfied that children will improve skills, technique, knowledge and understanding from their PE lessons in the future.
In summary:
Teachers gained a clear understanding for a structure to every PE lesson, Explanation, Warm-up, Skill based activities and Competitive Game situations.
Explain and reinforce the purpose of a warm-up and mention names of muscles and associated stretches, especially in KS2.
Ensure the warm-up is related to the lesson content, it could also be a recap from the previous PE lesson.
The importance of creating a 'learning environment' in PE, it is recommended that staff wear PE kit, or at least trainers.
Try to incorporate a fitness element to all PE lessons and don't be afraid to have an element of competition.
Learn not to be afraid of going 'back-to-basics', the ABC's, ability or agility, balance & coordination.
Understand that throwing & catching can always be improved, at any time of the year, change the; size of ball, distance, one handed rather than two, disguised throwing etc…
Every child needs to be active and learning in PE.
PE Kits
PE lessons are timetabled to allow for equality of access to our resources and playgrounds. Children receive 2 hours of PE every week.
We like all children to have a change of clothing for PE and games (shorts/t-shirts/trainers). However, we aim to be inclusive and want all children to access PE and games. Provided they are sensibly dressed (particularly footwear), children will not be excluded from PE and games if they do not have a change of clothing. The school has a school sports t-shirt designed especially for PE and this is also worn at all school events to represent the school.